Tango Workshops and Courses
The prices for attending workshops and courses are displayed on the relevant event pages. Any discounts for the workshops and courses are included in the price of the tickets displayed.
Open Group Classes
When running group classes, the class is about 90 minutes, an open class (all levels from beginner to intermediate), and the class finishes with about 30 minutes for practice. The cost is £10 per person per evening including the practice time. We offer people who are totally new to Argentine Tango their first class for free.

Semi-Private Class
If you and a group of your friends (more than 4) wish to take tango lessons without joining a public class please contact me to discuss a suitable approach and pricing structure. Ideally your group would consist of equal numbers of leaders and followers.
Tango dancers committing to a block of 10 drop-in classes.
When I run general group classes on a drop in basis, I like to offer regular attendees a way of saving a bit of money, in recognition of loyalty. Please note, this does not cover workshops, courses or social milonga which may be priced differently. This only applies to drop-in classes which tend to happen in Watford.  To obtain any discounts offered on special workshops, courses, and milongas, please use the link on the booking confirmation email you will receive when booking a special event.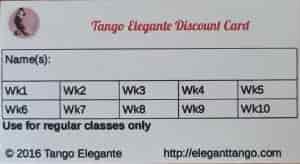 To purchase a 10 week discount card for £85 ( a discount rate of 15%, equivalent to £8.50 per class) simply fill in your details in the following form (or inquire during class). You will receive an email giving you ways to pay. You will receive a discount card on the next evening you attend once payment has been received. If you pay online, please remind the cashier there should be a discount card waiting for you, which will be marked in each of the weekly blocks until it runs out. If paying  for a discount card during attendance at a class, please make sure you bring the correct amount with you.
This offer is to encourage you to commit to a block of training, but if you have to skip the odd week here and there, you can use the card until it's used up. However if you cannot show your card on entry, you will be required to pay full 'on the door' price that week.
Waiting for PayPal...
Validating payment information...
Waiting for PayPal...
Please make sure you set your email system to allow email from the address at the top of the page to reach your in-box. If you don't receive any email confirmations within a few hours, check you spam/junk folder to see if it's in there.