Well, as we finish off the last couple of weeks of our Watford Summer Season, our new Autumn Season starts in October.
Autumn Season Argentine Tango Classes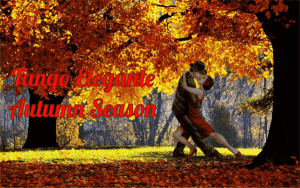 Continuing in Watford, our Autumn season will be following on, starting Thursday 4th October, 8:30pm at the YMCA Orbital Community Centre. The main class still starts at 8:30pm for approx. 90 mins with approx 30 mins practise afterwards. New beginners who have never danced Argentine Tango before will get their first lesson for free.
More details can be found by clicking here to read the Autumn Season Tango Classes booking page.
If you haven't yet experienced Argentine tango, now is the time to give it a go (none of us are getting any younger, so why wait? 🙂 ) Please drop in and try us out.
'Ten Weeks to Tango' in Pinner, North London
**STOP PRESS! This course is now fully booked!**
If you would like to be placed on a reserve list, just in case any current bookings drop out, please email me. If you would like to receive my newsletter to keep up to date with any future 'Ten Weeks to Tango' courses, or other events and classes, please email me with the Subject line marked 'subscribe'.
The 'Ten Weeks to Tango' course will be in Pinner Parish Church Hall starting Saturday 29th September at 4pm – 5:30pm for ten weeks (up to 1st December).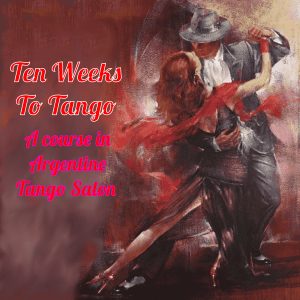 This is a structured course (not a drop in set of classes) aimed at :-
beginners (never danced Argentine Tango before)
improvers (dancing Argentine Tango for up to 12 months)
tango dancers wanting to brush up on basic technique and musicality
leaders who want to follow (it's fun to reverse roles!)
followers who want to lead (may help you get more dances…)
Please click here for more details for the Ten Week to Tango course. Please note: the course is now fully booked.
Yuletide Milonga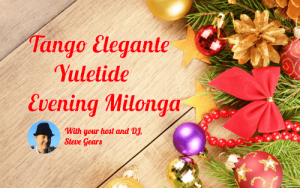 I am looking forward to our Yuletide Milonga at the Watford YMCA Orbital Community Centre, which is scheduled  for Sunday 23rd Dec between 5pm – 9pm, leaving you a whole day to do last minute Xmas shopping 🙂 Please put the date in your diary. It may be the last chance to go tangoing before Christmas!
Further details of the Yuletide Milonga can be found here.
I look forward to seeing you soon
Steve