Address
Haines Way,
Watford,
Hertfordshire
WD25 7QU

The Grove Hall (used for our social dances) at the YMCA Orbital Community Centre has a large wooden parquet floor, kitchen facilities, and there is plenty of parking to the front and side of the building.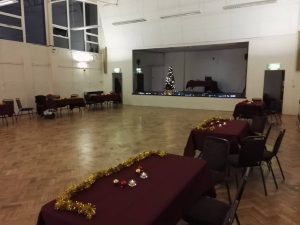 Please note, this venue is a no smoking venue.
For our weekly classes we currently use the Meadow Room which is to the left as you enter the main doors.
This venue is NOT the YMCA building in the centre of Watford. It is YMCA Watford's orbital community centre on the outskirts of Watford, just off the A405, which is easy to drive to from the M1, M25, A41 and and is less than an hour from Hemel Hempstead, St Albans, Radlet, Rickmansworth, Bushy, and other nearby towns and cities in South Hertfordshire and North London.
Upcoming Events
No events in this location