Please Note
During the Spring Season of 2019 we will be running a different format to the class schedule shown below. Please click here to view the 'Ten Week to Tango' course which will run from January to March, in both Watford and Pinner.
Typical Argentine Tango Class Schedule
8:30pm – 10pm: Open Class
On each evening we will hold one open class lasting up to 90 minutes
10:00pm until 10:30pm: practice (inc refreshments, and socialising).
The remainder of the evening is devoted to practice and further individual guidance. I recommend that if possible (I know… it's late for a week day) you stay and practice another 10 -15 mins minimum, with purpose, to try 'bed in' your new skills and knowledge.
I also realise that after up to an hour and a half of class, and a hard days work, many people just want to sit and chat with a cuppa. That's ok too 🙂
What do we do in our Argentine tango classes
We may look at exercises to improve balance and core muscles, and generally warm up before commencing the class. These exercises can be done at home so you can continue improving your 'tango fitness'.
The first 50 min or so are suitable for new or recent beginners. The difficulty level will start off fairly easy, so new beginners can join in, and we look at good technique and musicality, as well as introducing classic tango movements. Over this first section of the class the difficulty of material taught will also slowly increase.
In the last 40-50 minutes (some overlap) we introduce more difficult variations and techniques to test the skills of improvers/intermediates.
Class members will be encouraged to rotate partners. After all, to learn social dancing you have to be social 🙂 You will also become better dancers if you change partners, because each dancer is unique in build and stature, and we have to learn to adapt to our partners. However, if dancing close with a stranger is an issue, you can stay with one partner during the class as long as that partner has volunteered to do so. Remember though: The stranger to day is a friend tomorrow…
Each week the teacher will build upon material taught in previous weeks so that beginners and improvers can increase and develop their tango repertoire as fast as they are able.
There will be plenty of teaching and demonstration but the aim is always to have class members dancing more often than the teacher. During practice sessions within and after the class your teacher will be available to offer further specific help to those who need it.
Music will be playing during our tango dance classes to allow class members to get used to hearing tango music, and to allow practice of musicality as well as choreography and technique.
Dancers of any level are encouraged to attend for the whole class which is open to any tango dancer who wants to work at improving core technique, musicality, and variation in choreography. There is a difference between 'knowing' what you should be doing and mastering the techniques and figures for smooth and elegant performance. Refreshing the basics is always a 'good thing'.
Learning in the group tango dance classes environment
Many tango schools label people as beginners, improvers, intermediates etc. based on calendar duration of dancing tango rather than capability. In my humble opinion all tango dancers (including myself) who are not raw beginners are improvers, because…
The act of improving your dance technique never stops. I still regularly attend Argentine tango classes for myself. Even World Champions still take lessons…
We all become, simultaneously, learners and experts in some aspect of the dance, as shown below.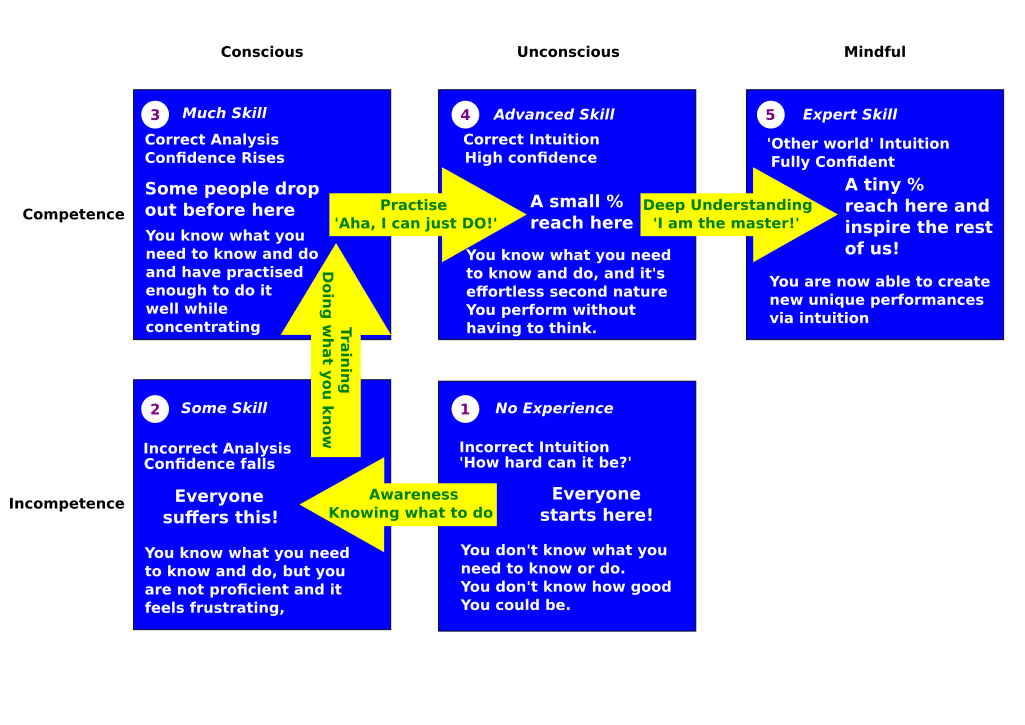 We are all moving from the 'no experience' box via 'some skills' and 'much skills' to 'advanced skills' boxes with at least one aspect of our dance, pretty much all the time. You don't become expert in all things instantaneously overnight, but you evolve to become a better tango dancer each day…
In recognition of this continual learning cycle, we run our 90 min tango dance classes to start off easy enough for those of us in the 'no experience' box, and help people to move up the competence chain, and with a little bit of practise to eventually nudge attendees into the 'much skills' box :-).