Argentine Tango Classes, Courses and Workshops
For beginners courses (a series of classes)  and workshops (single class), each class will generally be approximately 1 hour and 30 mins long with a minimum of 1 hour teaching time with the remaining time for practice. For courses, each week the teacher will build upon material taught in previous weeks so that beginners and improvers can increase and develop their tango repertoire as fast as they are able.
On improver/intermediate workshops the schedule will be similar to the above, but with more teaching time and less practice at the end.
For a full list of what we have coming up in the next month or two please visit our tango events page which lists all courses, workshops and events.
Typical Argentine Tango Class Format
Beginners classes will always be aimed at the level suitable for absolute beginners and recent starters (up to 3 months Argentine Tango experience). This does not mean that existing tango dancers should not attend. If you want to brush up on good technique and basic musicality, beginners classes may still be suitable for more advanced dancers, who perhaps need to maintain good basic technique, even while attending more advanced classes.
Improver/Intermediate classes will by definition be more difficult than beginners classes but we check that everyone understands the basics of the topic being taught, before introducing new material. We also tend to 'ramp up' the difficulty as we go through the class, so that new improvers will be able to cope with and learn the early material covered, even if towards the end of the class they are finding the material difficult.
This is deliberate by design, because you won't grow as a tango dancer unless you stretch your abilities just a little bit beyond where you are now 🙂
We may also look at exercises to improve balance and core muscles, and generally warm up before commencing the class, depending on the subject of the class. These exercises can be done at home so you can continue improving your 'tango fitness'.
There will be plenty of teaching and demonstration but the aim is always to have class members dancing more often than the teacher. During practice sessions within and after the class, your teacher will be available to offer further specific help to those who need it.
Music will be playing during our tango dance classes to allow class members to get used to hearing tango music, and to allow practice of musicality as well as choreography and technique.
We tend to request that class members join as couples, to make sure no one is left waiting for a partner to dance with. After all, it takes two to tango! There is no need to swap partners if dancing close with a stranger is an issue, you can stay with one partner during the class as long as that partner has volunteered to do so. However, you may become better dancers if you change partners, because each dancer is unique in build and stature, and we have to learn to adapt to our partners. As such, class members will be encouraged (but not forced) to rotate partners.
Whatever level of dance you believe you've reached, dancers are encouraged to attend for the whole class, even if you believe you don't need to go through 'a review', or easy material. You never know when that little extra nugget of information might help you improve core technique, and musicality, even if choreography is well known. There is a difference between 'knowing' what you should be doing and mastering the techniques and figures for smooth and elegant performance. Refreshing the basics is always a 'good thing'.
Learning in the group tango dance classes environment
Many tango schools label people as beginners, improvers, intermediates etc. based on calendar duration of dancing tango rather than capability. In my humble opinion all tango dancers (including myself) who are not raw beginners are improvers, because…
The act of improving your dance technique never stops. I still regularly attend Argentine tango classes for myself. Even World Champions still take lessons… We all become, simultaneously, learners and experts in some aspect of the dance, as shown below.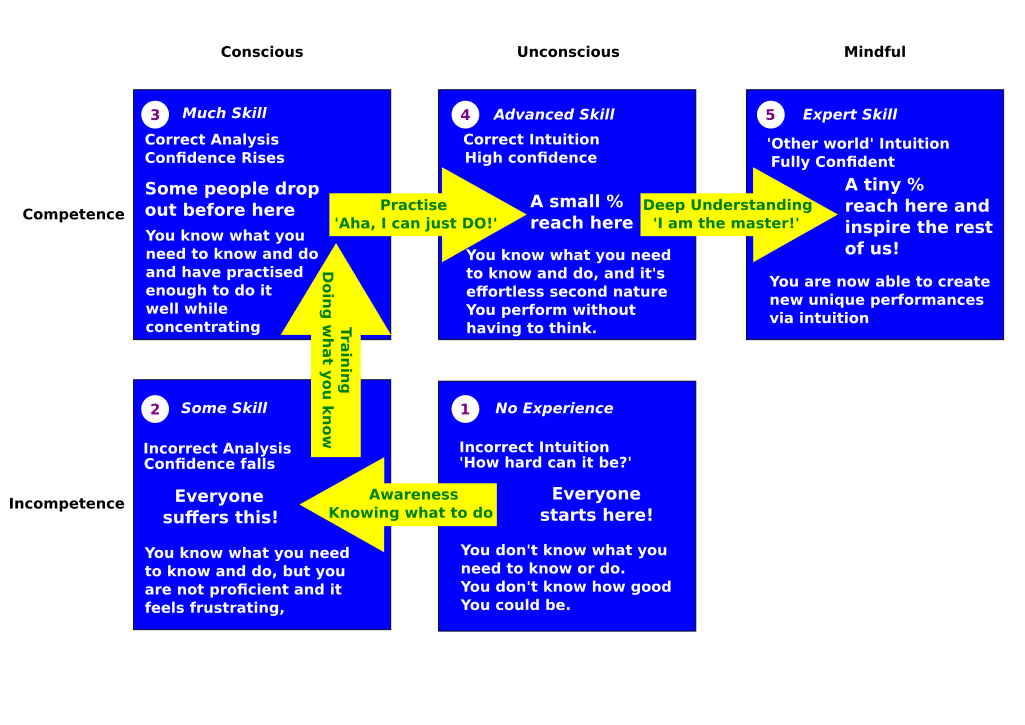 We are all moving from the 'no experience' box via 'some skills' and 'much skills' to 'advanced skills' boxes with at least one aspect of our dance, pretty much all the time. You don't become expert in all things instantaneously overnight, but you evolve to become a better tango dancer each day…
In recognition of this continual learning cycle, we run our tango dance classes to start off easy enough for those of us in the 'no experience' box, and help people to move up the competence chain, and with a little bit of practice to eventually nudge attendees into the 'much skills' box :-).