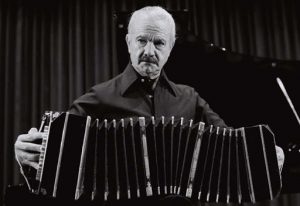 In the previous post on Musicality in Tango, we looked at the mixed rhythmic/lyrical style of Osvaldo Pugliese. In this post we travel a bit further along the time line to look at Astor Piazolla and his music.
If you find early Piazolla from the 1940's, then his orchestra will mainly be playing music composed by others, so the tunes although arranged by Piazolla, tend to stay faithful to the standard ABABC pattern and is predictable and danceable.
Todo Corazón
Take this example from 1947/48 'Todo Corazón' writen by Julio De Caro, (lyrics by José María Ruffet, but no singer on this instrumental version)
Libertango
Later on as Piazolla starts composing his own music, and Argentina comes under the rule of the military Junta in the 1950's, by the 1980's Piazzollas music begins to be less dance music and more concert style. Does this mean it's not danceable?
Listen to this piece his famous instrumental, 'Libertango' first recorded in 1983.
There is drive and urgency in the tune pretty much all the way through, and it does follow a predictable dance pattern. Would you hear it in a traditional milonga? Probably not because this is 'Nuevo' tango not 'Golden Age'. You may hear it at an Alternative/Nuevo milongas, and this tune has definitely been used in many modern tango show dances around the world.
Oblivion
There are other Piazzolla tangos from the 1980's which do not follow the rhythmic pattern of traditional tangos at all. You would be unlikely to hear 'Oblivion', first recorded in 1984, in a traditional milonga. Take a listen now.
It is undoubtedly a hauntingly beautiful piece of music, one of Piazzollas finest works. However, it doesn't have the rhythm needed to move a mass of dancers around a dance hall. Does that mean it's not danceable. Well, no, but it probably requires a different approach.
No obvious rhythm does not mean there is not a musical beat. It's just not emphasised in the music, but the musicians must be counting it in their heads at least.
For me, this tune is telling me to stay on the spot and express the hell out of it. So lots of circular movement, and with a large helping of 'movement without moving'. For those of us lucky enough to have a partner in the pandemic 'lock down' (2020) to dance at home with, this could be an ideal tune to dance to, in a small lounge 🙂
So to finish up, Astor Piazolla undoubtedly kept tango music alive during the 1970's- 1980's, but it's flavour had to change to the concert style and away from traditional dance style. He, and other nuevo musicians that followed him, was reviled by some in the dance community who thought he'd 'appeased' the ruling government instead of remaining faithful to traditional tango music. Other people may have thought he was just dealing with reality in order to keep himself and his orchestra in work.
Piazolla is quoted as saying
For me, tango was always for the ear rather than the feet.
so maybe this shift to concert style music was for him simply a natural evolution rather than being politically astute. You can decide…
Previous – Musicality in Tango Dancing – Part 7