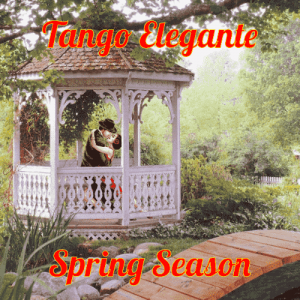 Throughout the Spring Season 2020 we are continuing our open classes with the following provisos to manage any ill effects of the Covid -19 virus. Your patience and co-operation is appreciated.
Attendees will be limited to 5 couples, so all attendees should book before turning up, so I have your email addresses and can contact you if necessary.
Because we are limiting class sizes for space and virus reasons, we may not be able to take on new beginners. People attending the 'Flavour of Tango' workshop on the 18th April will be given first choice to continue their tango learning with us (space permitting), but should also book here if they do wish to continue. Others who have not attended the beginners workshop should book here and I will let you know if we have space left.
Should anyone admit to Covid-19 symptoms after attending a class, all attendees will be informed and the classes will be suspended for a minimum of 2 sessions to let everyone isolate for the recommended minimum period. Please be sensible and let me know if you or your close family have contracted, or suspect you may have contracted the virus and we'll take a break.
Once myself and Christine have either recovered, or not shown symptoms after the known incubation period, I will inform you of when we re-open, and you can chose to attend again if you wish. It would be helpful if after such a break you could re-iterate your intention to attend just in case it makes more sense to shut down for the remainder of the season.
So what's the Open Class all about?
Each class will be at least 1 hour long with up to 30 minutes practice/warm up time. Classes start promptly at 3:15pm but absolute beginners please see below.

Who will benefit from these classes?
These classes are aimed at all levels from beginner to intermediate. Each class will consolidate what you already know and help you improve your dancing with new figures, movements and walking patterns, while learning more about musicality and how you can use the music to influence your dance.

Class Structure
The structure of each class will start off by looking at some basics, then introducing more and more difficult material over the hour until everyone has been able to learn something new, no matter what standard you currently regard yourself to be.
We will consider
Rhythmical walking patterns to expand your capability of dancing around the floor using musicality and technique, rather than just stepping to the main beat.
An introduction to, and practice of, simple and complex versions of the main categories of Argentine tango figures, such as Ochos, Giros, Crosses, Carrusel & Planeos, Off-axis movements, and so on. This will expand the leaders 'toolkit' of figures, while helping followers to get used to recognising and responding to the lead for the different versions of classic figures.
A build up of sequences of what we learn, so we can practice moving smoothly and elegantly from walking to one or more linked figures, back to walking, etc. whilst using the music to guide us. This will include using figures learned in previous weeks as well as the new figures in each week.

Booking a slot
The venue we currently use is small (room for 5 couples on the floor at anyone time), so although you don't need to pay until you attend, it would be useful for you to book ( see form below) prior to attending to give me an idea on numbers.

Is this suitable for absolute beginners?
These classes are suitable for absolute beginners but please attend promptly ready to start at 3pm for a brief but important introduction before the class starts at 3:15pm.

Do I need a partner?
Yes you do. Argentine Tango is a partner dance (one leader, one follower), so although you don't have to be a 'couple' as in married etc., you will need someone to practice with. You can come with a friend of the same sex as long as one of you adopts each role. I advise people to book as couples so that there is less need to circulate.
Bookings